Save More Cash by Buying Eyeglasses online at Optickart.in - Tirupati
Tuesday, 14 April 2015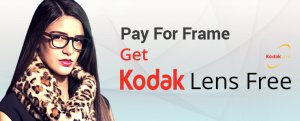 Item details
City:
Tirupati, Andhra Pradesh
Contacts

Ankush Rajput

9886469178
Item description
Plan a prescription order with Optickart.in, It is the cheapest in the Market compared to other online portals by at least 30%. How much cheaper it is when compared to local optical store. Well it is cheaper by whooping 70-80%. It's not hype but a fact and reality.
Take a look at this. Prescription glasses starts at INR 390 and more importantly this comes with Crystal clear lenses. If you add 100 rupees more you will get crystal clear advanced which is anti-reflective. More importantly the crystal clear lenses come with 90% UV protection and anti-scratch resistant.
If you wish to go for the world's leading Brand then go for Crizal lens. Standard Crizal lens comes with a price of 1499 rupees. This standard Crizal lens has features like scratch resistant, hard coating, Eliminates Glare, safety, transparent, thin and light weight. If you are looking for your kid then prefer Crizal Junior UV. Since the kids are very sensitive and their operating conditions are different Crizal UV lens can provide the right features. Optickart sells this at 1999 rupees and it comes with features like scratch resistance, anti-reflection, water repellence and Impact resistance along with UV protection from the sun.
The trend now is to wear light weight frames and lenses and optickart has the right set of offerings in this segment as well. We provide Kodak Aspheric MR8 lens which comes with index of 1.6, light weight and scratch resistant. For Customers who want cooling effect while roaming in the sun Kodak offers Transition grey plastic lens .Optickart offers this at a price of 4990 rupees.
There are some customers who want the best and for them Optickart offers Crizal Air wear. This comes at a price of 7399 rupees and has all the required and comfort features. We do offer Seiko lenses (world's thinnest lenses) as per the specific needs of the customers.
So what do you need to do before buying prescription order?
1. Google and find out who offers the best prices in the market for Branded Lenses.
2. Know your prescription. It is against the law if someone is testing and not providing the prescription
3. If you have the progressive get the PD (Pupillary Distance) as well
4. Look out for the best offers like the one we have highlighted above on optickart offers
No one likes getting ripped off. So research, compare and get the best deal on your prescription eyeglasses.